Upstate Handpiece Repair is a family owned and operated business that repairs all brands of high-speed and low-speed, and electric handpieces. We have been providing fast personalized handpiece repair service to dentists throughout Northern California since 1994.

Glenn has been in the dental industry for over 31 years. We started Upstate Handpiece Repair in 1994 after Glenn's successful experience as a manufacturer's representative for Star Dental®. Glenn is also a factory trained and certified Midwest® Technician. Over the last 21 years we have repaired more than 80,000 handpieces for hundreds of satisfied dentists. Everyone at Upstate Handpiece Repair is dedicated to the concept of convenient, cheerful service with one day turnaround on high-speeds.

Handpiece Express maintains Honor Roll Member status in the Golden Gate Better Business Bureau. We are founding members of the National Dental Handpiece Repair Association, an organization of independent repair centers dedicated to ensuring quality standards for the industry to protect dental professionals and patients. They subscribe to the NDHRA Code of Ethics and offer some of the longest warranties in the industry.

Thank you for visiting the Upstate Handpiece Repair website. Glenn and Lori Williams and the whole team: Kara, Greg & John, appreciate the opportunity to earn your business!
Midwest Factory Trained & Certified Technicians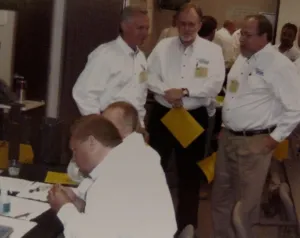 Dave waiting in line for his Certification testing at the Midwest Technical Training Facility
Dave Receiving his Certificate from the Midwest Technical Training Team
In 2008 Upstate Handpiece Repair was invited to attend technical training at MidwestCorporate Headquarters in York, PA. Glenn has spent a total of five days with the Midwest technical training team learning advanced repair techniques on the latest models of Midwest handpieces including the Stylus and the ATC.

We stock a full line of genuine Midwest® replacement turbines and repair parts to ensure that your Midwest handpiece is repaired correctly, with a full factory warranty, and returned to you quickly.